Days Out - Cocoa Beach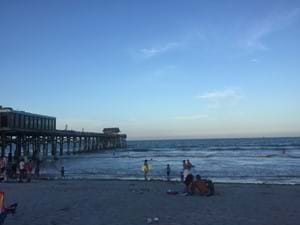 Yesterday we headed out late afternoon to Cocoa Beach after a late brunch at IHOP - the pier is 1.5hours from the villa.
We arrived about 4pm and parked in the car park at the pier. During the day there's an attendant taking parking fees which are $15 for the day. As we arrived late, there's no attendant and parking is free. 👍🏻
None of us are beach goers so couldn't manage a full day on the beach so a couple of hours is enough for us.
:) 🌊
Not jam packed so we found a spot easily enough. You can rent 2 chairs and parasol for $25 but it closes at 5pm so worth heading over earlier or taking your own supplies (I bought our own parasol from the shop near the car park for $23). 🌂
The sea was lovely and good waves if you like body boarding or surfing. 🏄
The sand is white and hot and there's also volleyball pitches on the sand too. You can sit under the pier if you prefer shade. 🏐
After a couple of hours we went onto the pier for dinner. Our favourite place wasn't open as they'd been hit by a storm and the electrics were out so we went to the restaurant slightly further up. You also have a Tiki bar at the end of the pier, a live music restaurant and smaller light snacks at the car park end. 🍴
The menu had lots of fish dishes as well as the usual burgers etc. We have all reached that stage in the holiday when we've had enough of food and eating for energy! Lol. Steve was going for lobster bisque but our server said not to as it's not good! Loving the honesty!
The free refills didn't stop coming! So much so that I had three drinks lined up by the end - I think that was to make us ignore the fact the food was taking so long to arrive. Certainly not one of our better meals while here sadly. Again, would choose another eatery next time.
Video'd a little crab running across the deck on way back to the car.! 🦀
We headed off at about 8.30pm for drive back, showers and bed!