Days Out - Islands of Adventure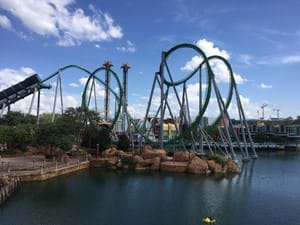 Early start yesterday! Alarm at 7.30am and left the villa by 8.30am.
Arrived at parking and decided to go Premium again to get closer to park entrance and we were the second car in the bays!
Busier walk in than last time probably due to the nicer weather after the last few days.
*Tip #1- check you've preloaded your payment card before you get to the Express ticket queue so you don't have to make the hot dash back to the car!! * 😬
About 5 mins queue for entry after buying our Express tickets. Cost a crazy $598 for four of us!! On checking we realised Steve had bought the unlimited Express passes rather than the one per ride. Mad prices to charge and having done both parks with Express it's a big hit on your holiday spending. 💵
That said, the longest time we queued for a ride was 30 mins and that was the Poseidon tour which was....ummm....interesting!! 😶
*Tip #2 - that old footwear question! You'll see most wearing either trainers or flip flops (thongs in the US). For me, its Sketchers all the way! Saves my back, legs and feet no end. Only down side is that the amazing cushioned soles turn into sponges on the water rides! Lovely squelching when walking with water bubbles coming up through your toes! Lol. 👟
The queue times for standard entry ranged from 5 mins with the maximum at 80 mins.
Harry Potter - brilliant as always. Hogwarts simulator and Hippogrif rides were really good. I personally didn't do the Dragon rides as too many dips and loops for my liking but Steve and Tyler liked them. Hogwarts Express between parks never gets boring. Conner got the obligatory butterbeer. 🍺 This seemed to be the busiest area of the park so expect longer queues and more people.
Kong Skull Island ride was brilliant - great effects. Slightly longer queue for Express (about 15 mins which we can live with!!). Worth noting that I did notice that one wheelchair bound child got right to the ride and couldn't go on. I don't know the reason but it's worth checking accessibility on the rides. Lots have warnings about jolting and health warnings but also lots that are good for all. 🦍
Water rides warning! ⚠️ You do get very wet! Lol. We did the doughnut Popeye ride and it was a great ride but imagine someone just pouring a bucket of water over your head and you've got this ride! Lol. Cooled you down but we spent afternoon squelching through the park. The boys did the log flume rides and enjoyed those and did get wet but not so much. 💦
We chose to have a lighter lunch as boys wanted to get the Hogwarts Express over to Universal to eat at Krusty Burger! We saved this until the end of the day. Four Krusty Burgers (with extra bacon on three) and drinks cost $65. (Curly fries included). 🍔
The rain held off until 5.25pm! The rides close due to inclement weather so everyone heads off to the inside rides. This is when the Express pass came in handy.
Useful to buy cheap ponchos before you head over to keep in your bags (I bought some from Amazon) for the sudden downpours. Although all three refused to wear them! (Steve did finally brave one for the log flume ride before we headed home).
Islands of Adventure is definitely our favourite of the two parks. As I've said before, I'm a wuss when it comes to rides but there's only a couple I don't go on. Lots for little ones too.
Steve and Tyler went on Hulk and enjoyed it as always, even if Steve does always come off with a headache! 🤕
We left the park at 9pm. Got home and straight to bed for us all. 😴