Days Out - St Augustine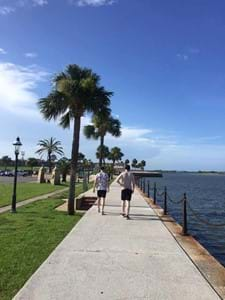 St Augustine is located on the North East coast of Florida (above Daytona) and claims to be the oldest city in the US with a strong Spanish history and feel (established 1565).

🇪🇸
We left at 9am and arrived at 12pm - one stop for fuel and one for restroom and refreshments (had to be Dunkin Donuts!) 🍩
In hindsight we should have left earlier. 😔
We had a couple of Florida-style downpours on the way - for a change the boys were prepared with raincoats but Steve and I weren't 😲
There are lots of pay to enter things to see there, which is largely guided by Ripleys Believe it or Not (believe it or not (!), St Augustine was the very first site for Ripleys!).
We chose to park on the outskirts of the centre on the South part (near to the old prison) and booked on the Red Train tour ride through SA. Parking is free there and you then ride the train through the 25 stops, hopping on and off as you want. 🚂
We chose to buy tickets to the Oldest Wooden school house and the Lightner Museum (which cost, along with our train tickets about $150). Whilst it was nice to see all the artefacts Lightner collected and had donated, the most interesting aspect we found was seeing the site for the pool which was on the second floor and claims to be the biggest on the World when first built.
The last Red Train is about 4.30-5 so we jumped on to take us back to our car and then parked at the multi story car park which cost a flat fee of $12. 🚗
The Oldest Wooden School House was certainly interesting and we'd seen it on only 10mins which goes to show how small it was! 👨‍🏫
There are quaint little streets with lots of gift shops, gelato and interesting sights. We stopped at a lovely cafe for lunch and wandered around which did get very warm! ☀️
SA is located on the harbour front where apparently dolphins have been spotted along with manatees, eagles, osprey and sharks! 🐬 🦅 🦈
We walked along the front to the old fort and headed back to the car at around 6pm. We were going to head to the beech to cool down but with the longer drive home decided to head back. This time it took us 2 hours and 30mins. 😴
We were treated to a beautiful double rainbow on the way back. 😊 🌈
A quick pit stop to Publix for a cooked rotisserie chicken and salad then home. 🍗 🥗
A lovely day out. We would definitely return but would make sure we headed off bright and early to try and squeeze in a few more sights. (Eg lighthouse and couple more museums).
Hope you are all well ~ Lorraine x