Days Out - Volcano Bay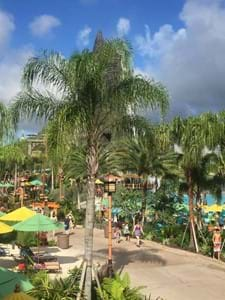 We'd heard LOTS of bad reviews on Volcano Bay, mainly about them reaching capacity and people not getting in, but it's really not all bad...
One of us was looking forward to the day (and it wasn't Steve, Conner or me!!). 🙋🏻‍♂️
We already had our tickets as we bought the three park ones from Attraction Tickets Direct which included both Universal parks and Volcano Bay with unlimited entry for 14 days (still not sure why we buy these as we only ever do the parks once!!). 🤷‍♀️
With the worry if we'd get in or not we looked into buying premium seating to guarantee us entry but all seating had already gone (two days before going). The only option left to us was a cabana - this gives you a wooden hut with seating, towels, your own screen to book onto rides, wifi, ceiling fan, locker, free water, free fruit and snacks, a server and privacy! Really don't feel comfortable saying the cost but to our mind we had only done two parks in 16 days, had a good deal on the tickets and knew we would be spending one of our last days in comfort and ensuring we got in! Was sooooo worth it!!! 😊
We left home at 7.45am and arrived in the car park at 8.20am. We then had a 7min bus ride to the park. We were through and into the park within 5mins and then went to concierge to be shown to our cabana (note you can rent towels from concierge). The signs confirmed that all premium seating and cabanas had sold out. ⛱
We had our Tapu Tapus which are the wrist bands you use to register for the rides. You can also use them to pay for food and drinks if you register with a credit card on the app and also take pictures around the park.
NOTE: at least one of your Group WILL lose your Tapu Tapu on the rides!! Guaranteed! We lost two and apparently they have 100s reported as lost each day. They are looking into new buckle bands. If you lose yours, just go to concierge with your park ticket and your email address. We had an issue as Steve's lost band was used to lock our locker and our park tickets were inside (you use your Tapu Tapu to lock and unlock your locker - same band needs to be used). We had to wait for a staff member to come and unlock our safe and then head back to concierge. 🔐
We settled in and the boys went straight out to look around. Steve and I wandered around the park. It was now around 9.30am and contrary to belief there were lots of seats still available, especially at the back of the park near the bigger rides. The kids in Polk county were back at school though, as were a few other counties so that might have helped? 👍🏻
We did the Winding River which was fun trying to grab a ring and then trying to get inside! Hanging over the side seems to work!!
:)
The ride times really varied through the day. 3hours for the biggies at times but then straight on come the end of the day. The Tapu Tapus seemed to do funnies at times - all booked on at the same time but then the boys time went up and Steve's went down! Easily sorted at the ride entrance as they could tell we'd tapped at the same time. Also had times when 5mins left to ride stayed on for 15mins! Again easily sorted by going to the ride entrance and explained and we were let on. 💦
Few slides not for me due to drops and height but I did a couple outside of my comfort zone and although I may have screamed once (or twice!) they were fun - I'll finally admit it!
Boys went on quite a few in the time from opening to closing and when we finally left at 9.15pm they'd only missed out three rides (they'd done a couple twice). This was due mainly to the ride times - if you aren't aware, you can only tap on one ride at a time. You then wait for your slot (Tapu Tapu will count down and buzz when you can ride). Once you've ridden you can then tap on your next ride. 🌊🌋
Tyler finished off with the Body Plunge - vertical drop from the top of the Volcano through a clear tube when you can then be seen shooting through the end from the wave and reef pool. You hear a bang when the trap door opens and 30seconds later they zoom through - see my video here! Tyler said he forgot to breathe (unfortunate!) and couldn't see a thing with all the water! 😨
They did one final straight on ride and then it was off to the shop for souvenirs and home!
Here's some pros and cons:
PROS
- you can walk on the pavements without second degree burns (like in Wet n Wild)
- clean!
- water sprays everywhere to cool you and the pavement down and to wash the sand off.
- little beaches dotted around.
- friendly staff
- great facilities for accessibility needs that I saw around the park - ramps and hoists and lift for cabana access)
- lots of smaller slides and activities for younger children
- lots of different slides for different fear factors!
- lots of things to do while waiting for your ride (no wait activities).
CONS
- need a Tapu Tapu to get a drink!! Took 40 minutes to get drink refills!!
- our food order for dinner in the cabana took 1.5hours! (But were nice when they finally arrived)
- snacks are expensive so take your own
- losing Tapu Tapu bands
- long queue for concierge due to the above!
- timing on Tapu Tapus not always accurate
- favourite slides do get a long wait time or full but do open up again so you shouldn't miss out.
Overall, after our initial hesitation, I would have to say this was one of our best days out and went so quickly. Would definitely go back, especially as we know what to expect.
So read all the reviews, take note of comments but as long as you get there EARLY you'll have a really great day out.