Travel - Norwegian Airlines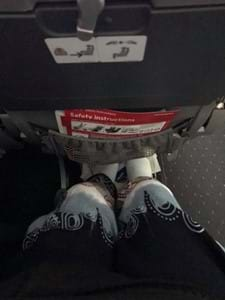 Well we flew for the first time with Norwegian from Gatwick to Fort Lauderdale in April 2018. We've only flown with BA and Virgin before. Here's what we thought....
BOOKING PROCESS: Good and easy. Same as other flight operators etc. 
PRICE: £800 cheaper than other operators for four of us at Easter (all adult tickets - 15 year old classed as adult)
INFO: Good, regular updates. However, our flight times out changed about 5 times so don't book your airport transfers too early or else you'll be changing regularly!
APP: Good and easy to use. You can see all your flight info. 
BAGGAGE ALLOWANCE: We had LowFare tickets so had checked in allowance of 20kg. Hand luggage was one carry on (cabin size up to 10kg) and one SMALL handbag (I usually take a rucksack and cabin bag but had last minute changeover and repack at home day before when I found this out!)
CHECK IN PROCEDURE: Didn't allow us the option to check in 24 hrs before online or on app for some reason. 
Check in at airport was simple - they have staff asking you security info in the line to speed up process. 
BOARDING AT GATES: By seat numbers and on time (for now!)
TAKE OFF: Sat on runway for one hour due to a baggage carrier being damaged!
SEATS: Same as other airlines. I'm 5'4 and found it okay knee space wise. Boys are 6' and said it was okay. No pillows, blankets or headphones provided! I found this out before so bought some from Amazon. 
FOOD: Main was pretty good actually. One chicken and rice meal, one beef and mash meal. You get less than other airlines. Arrived 2 hours after take off. Second meal was about 1.5 hours before landing. Pretty sad second meal to be honest. Eldest wasn't impressed!
DRINKS: Choice of lemonade, coke, water, red wine, white wine or beer. No regular drinks during flight unless you order and pay from the booking screen (see video). Expensive! I always make sure I buy water to stay hydrated on the flight as well as extra savoury and sweet snacks - which we needed. 
FLIGHT TIME: 9 hours 
FLIGHT ATTENDANTS: Pretty miserable to be honest! They were lively enough when chatting and laughing together at the back of the plane but not with guests!
ENTERTAINMENT: A few new releases - not a patch on BA or Virgin though. Choice of TV programmes too and kids programmes. About 5 games to play online. No music channel. 
PLUGS: There's a USB port under each TV screen but mine didn't work. Could be my cable but I didn't use the TV anyway (downloaded my programmes to iPad to watch!). 
FLIGHT: Pretty good. We were right at the back (we always book seats without anyone behind us). Bit rocky on take off to be expected due to weather. Landing was chocky! Didn't like that - from a fearsome flyer!
LEAVING THE PLANE: Usual of everyone standing at once but then a 20 min wait for the steps to arrive. No conversation from the stewards at all - just chatting and laughing amongst themselves!
WOULD WE USE THEM AGAIN?!: We have to as we've booked already for August! Lol. Personally, I would choose BA first, then Norwegian, then Virgin.

Search Norwegian on our Facebook page for photos and video.