We make every effort to provide you with as much information as possible upfront to ensure your trust and comfort in us as villa owners.  As working parents ourselves, we appreciate how important your holiday is to you and will try our very best to make sure your stay is as enjoyable as it can be.
As we get asked questions regarding Buckingham Palace Florida, we will post them here with our answers to help you.  If you have a new question, please do drop us an email at buckingham428@icloud.com and we will reply as soon as possible.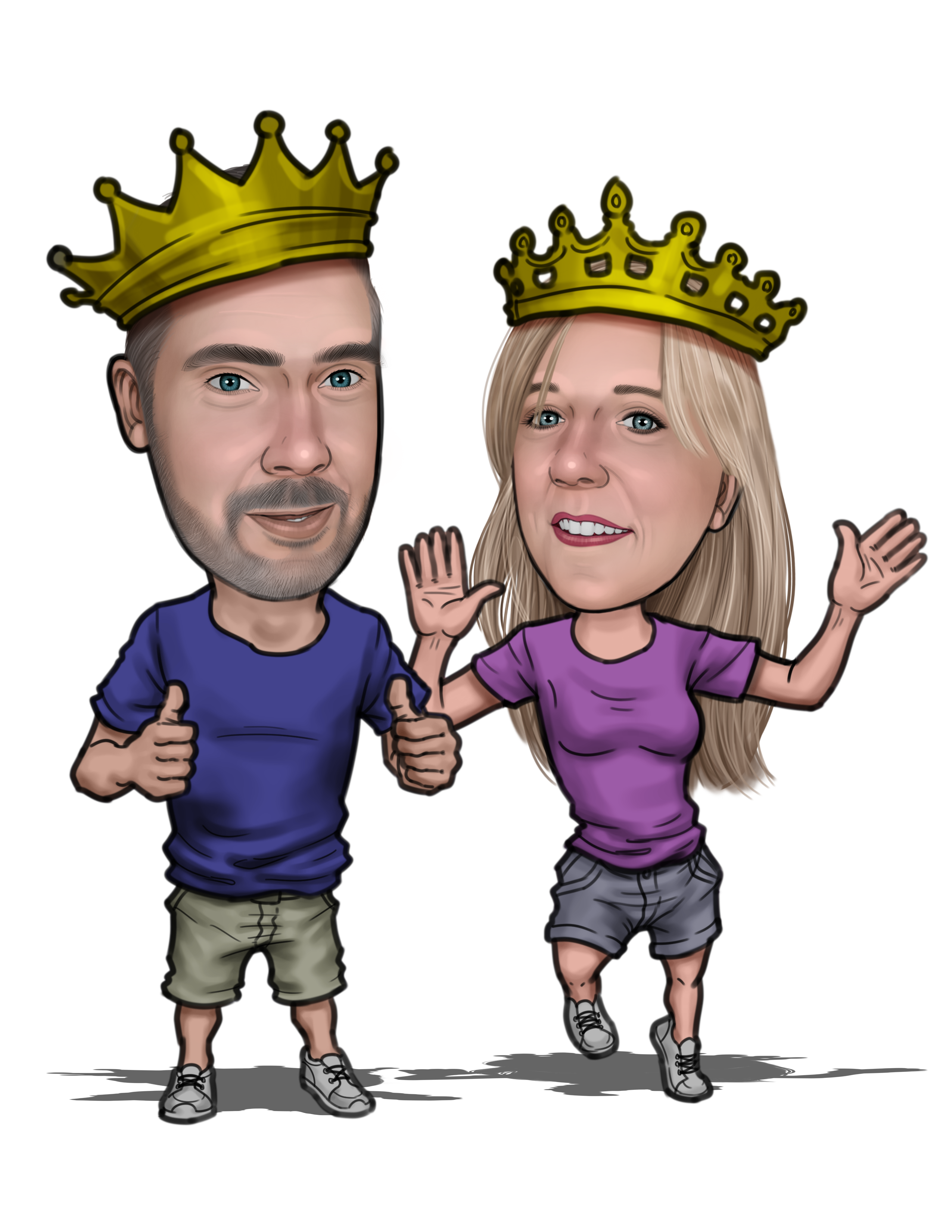 Steve & Lorraine
What's the booking process?
It really is easy to secure your perfect vacation home with us!
We're concerned about booking - how can we check everything is okay?
Your holiday is important to you (and to us!) and you're parting with your hard earned money so it's right to want to be sure that who you're booking with is who they say they are and the home is to the standard you deserve.
There are lots of things you can do to put your mind at rest - (1) check the owner has a Florida State License. You can request their license number or a copy of the license itself and also check they exist on the portal - www.myfloridalicense.com - some owners' licenses are organised as a group through their Management Company (2) read reviews - look on social media sites, their website, advertising sites (3) ask questions - any decent owner will be happy to help and answer any questions you might have (we are!)
Here is a copy of our Florida State License for you - our license number is DWE6314751:
Buckingham Palace Florida Villa - Florida State License
We're looking for a Vacation Planner...
Look no further!  To try and help you with your vacation, we've created a handy planner for you to ensure you get to do all those days out you're looking forward to!
Buckingham Palace Florida - Vacation Planner

How far are you to Disney?
We are 10 miles to Disney heading North on highway 27 and the US-192 which will take you approximately 13 minutes to travel there.  Please see our map on this page.

How far are you to Universal?
We are approximately 25 miles to the Universal parks heading South on highway 27 and then taking the I-4 which will take you approximately 30 minutes to travel there.  Please see our map on this page.
How far are you from everything....?!
We have created a list to hopefully help you see where our villa location is.  We've picked a few main things to look at as it's impossible to include everything but we hope this helps!
Buckingham Palace Florida - Distances
Are there any good restaurants in the local area?
There sure are and you'll be spoilt for choice!  We've put together a few recommendations for you.
Buckingham Palace Florida - Local Restaurant Recommendations
What is included in the villa - do I need to bring my own towels etc?
No need!  We supply lots of things for your use in the villa which includes:
FREE WiFi

Washing Machine & Dryer

Ironing Board & Iron

Towels for your use in the bathrooms

Towels for your use by the pool

All bedding

Hairdryers in each bathroom

All utensils, glass, plates etc in the kitchen including kettle, toaster, coffee maker, microwave etc.

Child/Baby facilities including travel cot, high chair, bed guard and booster seat

Door alarms for little ones

Safe

DVD Player and DVDs 

PS2 and games

Reading books - various style books are in the villa for your use whilst staying
Please note that you are booking a self catering villa and therefore you will need to supply your own food, drink and cleaning items which can be purchased locally from Publix, Walmart and your small local shop for urgent supply needs!
How can I see updates and offers on the villa?
You can follow us on Facebook to receive regular updates on the villa, offers and general information about Orlando, the villa, days out and our family! :)
It's also worth checking our 'Rates' page regularly for last minute offers and deals.
Buckingham Palace Florida - Facebook Page
What are the Terms & Conditions of booking?
Your booking forms and Terms & Conditions are emailed to you following your booking request for your full review before confirming that you would like to proceed.  Your booking is secured and your dates reserved upon receipt of your signed booking form and deposit payment.
What facilities etc will be in the villa for our use?
Please ensure you view our 'Details' page as well as the up-to-date images on our 'Photos' page. If something isn't listed, please ask.  Also if something is listed which you want to check on, please ask.  We are here to ensure you have the perfect vacation and like to provide as much information as possible to help you.  But, if you don't ask, we won't know!  We're here to help!
What is the official site to apply for my ESTA?
There are lots of 'unofficial' sites where you can get an ESTA, some of which will charge high fees, so ensure you go to the only official Government website to get yours!  You can find it here:
UK Customs & Border Protection
To check you have the right one, view the image on the left of this page.  You shouldn't be charged more than $14 for each ESTA (correct at time of writing Jan 17).
Can you help?!  I have so much to remember and organise - how do I know what to pack?!
We sure can help!  Take a look at our useful Packing Tick List to help take the pressure off your planning!  If we've missing anything, please do let us know and we'll add it on! :)
Buckingham Palace Florida - Packing List
What should I bring to wear and what will the weather be like?
Orlando is known for sudden thunderstorms with heavy downpours in the rainy season between June and September.  You may want to be prepared with light rainproof jackets and umbrellas to carry in case of a sudden downpour, especially in the parks.

August through October is hurricane season which can bring strong winds and heavy rains.

Winter months can still be warm but you may want to be prepared with warmer outer clothing for the evenings and visiting air conditioned shopping centres!
Click on the image on the left on this page for information on average temperatures each month.
What do we do about bugs in Florida?
With Florida being a warm state, you are going to experience bugs during your visit - they love the warmth as much as we do!  Whilst we do carry out regular pest control and maintenance in and around the home, you may experience visitors during your stay.  Any pest issues can be reported to our Management Company.  Please note that pests are 'controlled' not 'eradicated' and they are persistent, hence the term 'pests'!  We want you to enjoy your holiday as much as possible and appreciate you reporting any issues to our management company for them to address.  Our pest control company may carry out a visit during your stay to keep on top of them - if they advise us before arrival, we will obviously inform you of their visit.  However, this is often subject to last minute scheduling and therefore we may not always have advance notice to inform you.  A calling card will be left by the company.
What should we do if there is a hurricane warning?
Florida is very good at monitoring hurricane movements and advise on the course of the hurricane etc.  TV stations update regularly and you will see updates along your TV screen.  Keep a check on the news and stay in touch with us if you have questions or concerns.  Please also refer to your Terms & Conditions of booking in relation to weather warning.  We have prepared some information should you be a guest in the villa when a hurricane is imminent or passes over.
Hurricane Preparation Document
Why do we have to pay pool heating and why is it charged extra?
Some people don't use the pool, or don't mind if the pool is not heated - this is why it is charged as extra and not included within your villa rental fees. (As new holidaymakers to Florida in the past, we stayed at two villas during July and August and weren't aware about pool heating so never requested it.  We found it was comfortable and even welcoming during the hot days!).  
Lots of guests will be on days out for the majority of their holiday and therefore won't be making use of the pool and then may make the decision not to include pool heat as they won't be benefitting from it on a daily basis.
Unfortunately, electricity is expensive in Florida and as home owners we will pay up to 13% tax on pool heat which is a direct cost to us.
The daily cost charged also includes pool maintenance which ranges from weekly pool cleaning and repairs and maintenance needed throughout the year.  We have recently had the pool and spa area totally re-skimmed to remove staining which went into thousands of dollars to carry out to ensure the full enjoyment of our guests.
Pools lose heat in the air and is harder to keep warm when the external air temperature is lower.  Sadly pool covers aren't always used effectively by guests which contributes again to loss of heat to the pool.  Another reason why some guests choose not to include pool heating.
We require our management company to attend our villa prior to arrival to ensure the pool heating is switched on and the water is able to heat for arrival.  Then then need to return upon departure to switch the heating off.  All management companies will make a charge for this service.
Should something go wrong with the pool heating during our guests' stay, there will be a call-out fee by the engineer to attend site and ascertain the problem prior to fixing it.  This is an additional cost which needs to be allowed for and factored into our costs.
It is generally felt that people would welcome the pool heating NOT to be included in their accommodation fees, especially if it was something they wouldn't choose to include themselves.
Please note that the spa is heated alongside the pool.